ENDIS office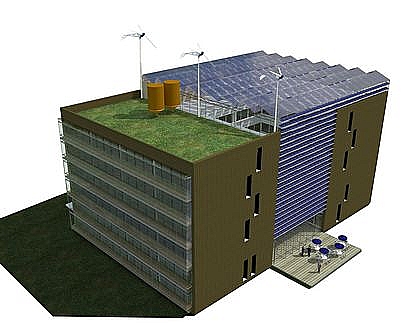 ENDIS stands for Energy Neutral and Sustainable in Steel (EnergieNeutraal en Duurzaam In Staal). The ENDIS office represents a promising concept for the development, construction and use of office buildings in the Netherlands: energy-neutral, flexible and sustainable.
The concept was developed by an interdisciplinary team that worked intensively from the initiation phase. The team includes the following: Van Hoogmoed Architects, CAE Nederland, Movares consulting engineers, Evert Vrins energy consultancy, Cofely, Inno-Experts (Jos Lichtenberg), Heerkens van Bavel Bouw and the instigator Deltastaal. The result of the collaboration is a basic building design in which architecture, structural engineering, construction, building physics and installation technology are optimally harmonised.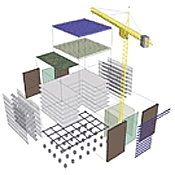 For the realisation, the integrated design is split into its individual components: the building components (skeleton, floors, walls, roofs, installations, fixed interior structures) are factory produced and assembled on site in independent streams. This makes the construction faster and its elements easier to handle. Modifications and replacements are possible up to the last minute.
Construction
The structural basis of Endis consists of a steel skeleton of columns and beams with wooden Kerto floors and steel Slimline floors. These floors are relatively thin, resulting in savings in total building height and facade surface area.
Both floors are constructed from a lower shell with joists above. This results in space in the floor structure for cables, pipes and other installation components. These can run both in the direction of the span (between the joists) or perpendicular to the span (through openings in the joists). A mineral-based floating floor provides sufficient sound insulation. Moreover, the weight of the floors themselves is limited, enabling less material to be used for the steel frame and foundations. The total weight of the load-bearing structure (steel skeleton + floors) is only 71 kg/m2.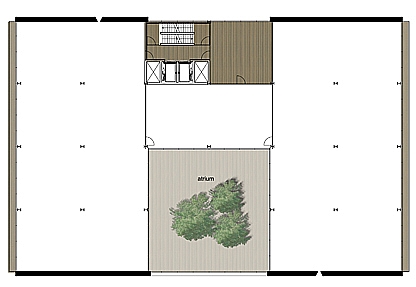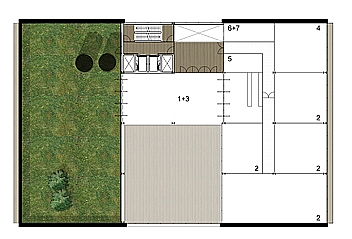 Plan of floors 1 to 5 (left) and floor 6 with roof garden (right).
To provide the building with as much functional flexibility as possible, a 7.5 x 7.5 m column grid was devised along with a floor span of 7.5 m. This creates a degree of openness that makes changes to the spatial layout or installations easy - for changes in use or even an entirely new function. And that freedom to rearrange and customise the building offers the prospect of a long economic service life.
Building Physics and Energy
For minimal energy consumption in the use phase, a coherent series of passive and active measures are taken:
Climate-control facades on the west and east sides;
Passive (natural) ventilation through the climate-control facades and atrium;
Active cooling via thermal storage (heat and cold storage) and a heat pump;
Low-temperature heating and high temperature cooling;
Fixed awning on the south facade and
A favourable building orientation for daylight incidence and minimising the internal heat load.
Using these measures, the ENDIS office has an EPC of 0.24, well below the required value of 1.10 under the new 2012 Building Regulations. The EPC could be even lower if EPC calculation models took passive provisions into account more.

The building itself generates energy using about 700 m2 of solar panels on the sawtooth roof and on the south facade and four wind turbines on the roof. A pellet stove is available to meet unexpected demands for extra heat.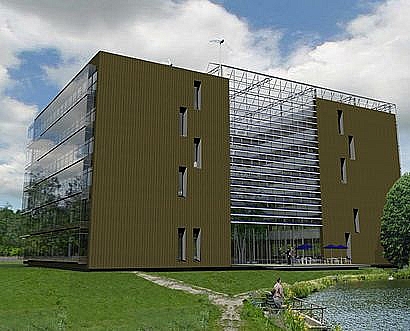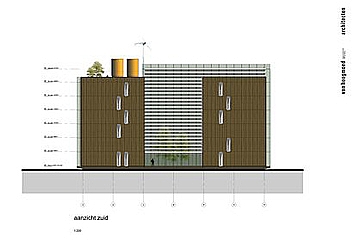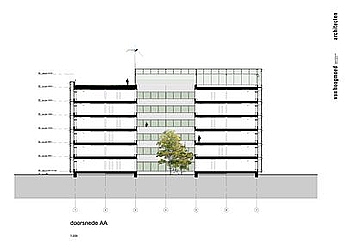 left to right: orientation in the landscape, view of south facade, and cross-section.
Het ENDIS-kantoor presenteert zich onmiskenbaar als een industrieel, flexibel en duurzaam gebouw, met grote vrij indeelbare en aanpasbare plattegronden en een eigentijdse en tegelijkertijd tijdloze signatuur. De ruimtelijke kwaliteit wordt geleverd door een fors atrium tussen de kantoorbeuken en een rustieke daktuin. Transparantie en daglichttoetreding komen voor rekening van de beglaasde zuid-, noord- en atriumgevels.
In addition to the office concept, the ENDIS team is currently working on case studies for an ENDIS house, a commercial building and a top-up project. For more information see www.endis.nl and the presentation given by Evert Vrins (Evert Vrins energy consultancy) during the seminar Duurzaam bouwen met staal (Sustainable building with steel). This can be downloaded here.